19  July  2012
METROPOL Group of Companies supports a benefit performance by Morihiro Ivata
A farewell benefit performance by lead dancer Morihiro Ivata took place in the Bolshoi Theatre on 17 July. The concert was dedicated to completion of his stage career which he intends to continue as a choreographer.
The first part of the evening was the Tamashi ballet with music by Kodo directed by Morihiro Ivata. The second part included short performances directed or performed by Morihiro Ivata as well as performances by other Japanese and Russian ballet dancers who won the audience over with their plastique, phenomenal physical capacity and deep psychologism of their acting.
Morihiro Ivata joined the Bolshoi Theatre company in 1995. His work as a ballet dancer and choreographer won numerous international awards. During his career Morihiro Ivata did a lot for the development of Russian-Japanese cultural relations. His achievements were marked with state decorations of Russia and Japan. The main idea of the dancer's final performance is to show a creative union of Russian and Japanese performers and demonstrate growing cultural connections between the two nations.
Morihiro Ivata's performance at the Bolshoi Theatre
Aleksey Rodzyanko, Chief Executive Director with IFC METROPOL, Dmitry Tsay, Head of the International Project Department, and Tikahito Harada, Extraordinary and Plenipotentiary Ambassador of Japan to Russia, with his spouse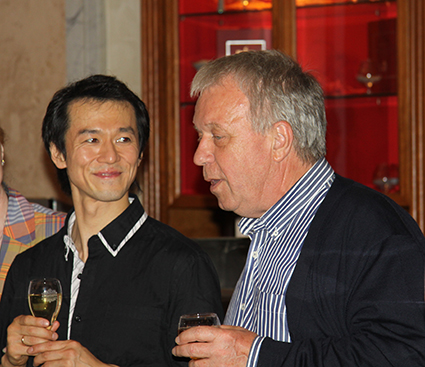 Morihiro Ivata and project producer Mikhail Chigir