The METROPOL Group of Companies offered to build a thermal power plant of Ulan-Ude to solve the problems of energy supply of Ozerny GOK and Ulan-Ude
A meeting of the Coordination board for the implementation of investment projects in the Republic of Buryatia and the Baikal Territory took place in Ulan-Ude in presence of V.A.Tolokonskiy, authorized representative of the President of the Russian Federation in Siberian Federal District.
The meeting was devoted to the integrated development of energy infrastructure in the Baikal region and the need to overcome the obstacles that prevent the increase of investment attractiveness of the region.
Opening remarks were made by the President and Chairman of the Government of the Republic of Buryatia V.V. Nagovitsyn and the governor of the Baikal region R.F. Geniatulin.
During the meeting B.D.Tsyrenov, the Director of Regional Activities of IFC Metropol, came up with an electricity infrastructure project for the development of Ozerny complex deposit.  He spoke about the main problems associated with the development of mining projects under the management of the MBC corporation.  This is, first of all, the remoteness of the territory, its complex geological and geophysical conditions, lack of energy resources, lack of transport infrastructure development, etc.  To secure the required energy supply to Ozerny site, you need energy the speaker suggested the construction of a thermal power plant with the capacity of 240 MW.  However, though it was previously supposed to be built in the vicinity of the deposit, in the Yeravninskiy district, now B.D.Tsyrenov proposed to construct thermal power plants in Ulan-Ude in form of a public-private partnership.
Viktor Tolokonskiy, the plenipotentiary representative of the President in Siberian Federal District, stated that the suggestions of the METROPOL Group of Companies regarding the construction of a heat and electrical energy power plant in Ulan-Ude the most realistic and interesting, because their implementation would have reduced the production cost of energy supply to the complex and would increase the reliability of heat supply in Ulan-Ude.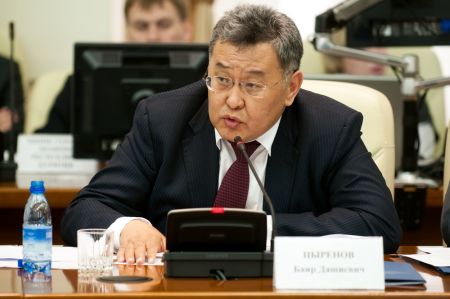 In the photo: B.D.Tsyrenov, Director of Regional Activities of IFC "Metropol", delivers a speech at a meeting of the Coordination board.